Event Information
Name
The 17th Mt.Fuji Hill Climb
Date
Considering holding from mid to late September
Organizers
Mt. Fuji Hill Climb Executive Committee
Start Venue
Fuji Hokuroku Park
Finish Venue
The 5th station of Mt. Fuji
Race category, maximum number of participants, participation qualification, participation fee etc.
Divisions
– Select group of Mt.fuji hill climb Secretariat
– General cyclists(male,female)
Maximum number of participant
10,000 cyclists
Start method
cyclists are assigned to different corrals and start at different times (wave start).
Time limit
3 hours 10 minutes
Start time
7:00 AM
Participation fee
13,500yen(12~18 years old 9,500yen)
Participating qualification
Persons who are 12 years of age or older who can finish within the time limit as of the race day.
Award presentations
1st – 8th place in each age group for both men and women *1 by net time.
Records
Cyclists who completed the race within the time limit can download the official certificate.
Participation prize
Not yet determined.
2.*Net Time is the time between the time you actually cross the start line and the time you cross the finish line.
Course
Starts from around Fuji Hokuroku Park, passes through the Fuji Subaru Line and finishes around 5th station at the Fuji Subaru Line.
Course Map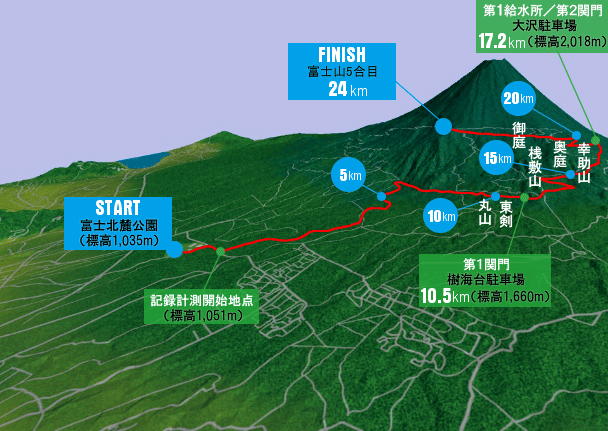 Checkpoints and Water Supply Stations
Checkpoints (3 places in total)

①10:05-about 10.5 km
②10:55-about 17.2 km
③11:40-about 24 km (FINISH)

Water supply stations (2 stations in total)

①about 17.2 km
②about 24 km (FINISH)

How to deliver number cards,etc.

Regarding Race Bib Pick-up

Please your race bib and timing chip can be picked up upon check-in (see below.)

Cyclist Check-in

Location: Athletics stadium at Fuji Hokuroku Park

Address: 5000 Kamiyoshida-Tateishi , Fujiyoshida-shi , Yamanashi-ken 403-0005

Date:Saturday, June 6

Time: From 12:00 to 18:00